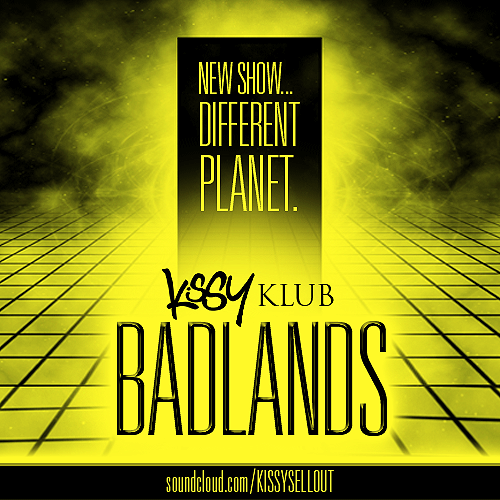 If you're a regular reader of BPB, you might know that on Tuesdays or Wednesdays I post a bunch of promos, radio mixes and podcasts, that will help you through the midweek crisis and set up your mood for the weekend. No exception here, massive new sets from Kissy Sell Out, Doctor P, Blende and Foamo - so it'll be as eclectic as it can get! Let's go!
KISSY SELL OUT - THE KISSY KLUB BADLANDS (PART 1)

the kISSY kLUB BADLANDS Part i // DJ MIX by KISSY SELL OUT
by
kissysellout
Blue Foundation - Empty Wall
Labrinth - Climb On Board
Kissy Sell Out - You're Not The One Ft. Queen Of Hearts ••• Exclusive *
Adam1Time & The Phoenix Bros - Dirty Girls (Dustindl Remix - Kissy Klub Version)
ETC!ETC! & Bro Safari - The Clap
2Deep - Watch Out Now
LAZRtag - Guess What (Aniki Remix)
Herve - Show Me The Light (Kry Wolf Remix)
Daniel Bedingfield - Gotta Get Through This (Kissy Sell Out Edit)
Bro Safari - 5150 (Codes Remix)
Emalkay - When I Look At You (Heartbreak's I Love Moombahcore Remix)
Shunda K - I'm Da Best (Trumpdisco Remix - Kissy Sell Out Edit)
Keith & Supabeatz Vs Tony Senghore - Hound
Boy 8 Bit - Suspense Is Killing Me (Trumpdisco Remix)
Wiley - Skank (The 2 Bears Remix)
DJ Narrow - Kik Da Flow
Argy - Love Dose (Luciano Remix)
Rihanna - Some Acapella
Stereothieves - Scratch
Sandro Silva Ft. Buzzey - Get Lower (Angger Dimas Jungle Swag Remix)
Tommie Sunshine - Tonight's The Night (Elektropusher Remix)
Kissy Sell Out - Vocoder Boccherini DJ Tool
Redlight - Get Out My Head (Kissy Klub Version)
The Squatters - Brush Your Teeth & Dance
Saint Saviour - I Call This Home (Kissy Sell Out's Vinyl Fryah Remix) ••• Exclusive *
Trumpdisco - Cut & Paste Ft. Airwolf
Punx Soundcheck - Nobody Move (Stuff Ya Disco Remix)
TAI - At The Disco (Kissy Sell Out's Skippin' School Remix)
Ultra Naté - Free (R.I.P. Up North Remix)
Crookers - Bust Em Up (Acapella)
Koan Sound - Meanwhile, In The Future
Vato Gonzalez - Badman Riddim (V.I.P. Mix for Kissy Sell Out)
Foamo - There For Me
Steve Aoki Ft. Kid Cudi & Travis Barker - Cudi The Kid (Kissy Sell Out's Style From The Darkside)
The E-Jokes - Disco Bitch
Julio Bashmore - Battle For Middle You (Kissy Klub Version)
Masterstepz - Melody (Kissy Klub Version)
14th - Take Me There (Rack N Ruin Remix - Kissy Sell Out Edit)
MSK - Jazz Hands (Kissy Klub Version)
DJ SS - The Lighter (Kissy Sell Out V.I.P. Remix)
The Wideboys - Funk Off
Urban Cookie Collective - The Key, The Secret (Kissy Klub Version)
Valymo - A Love Anthem
DOCTOR P - THE DAILY DOSE OF DUBSTEP (2012-04-16)
DOWNLOAD
no tracklist available...:(
BLENDE - APRIL 2012 PROMO MIX
Blende April 12 Promo Mix
by
blende
Douze – Get Over You
Africa – Fair
Niklas Gustavsson & Peter Johansson – Cool Cat, Hot Dog
The Shoes – Time to Dance (Sebastian remix)
M.S.K. – Crucial Cats (edit)
Futurewife – Springer Spaniel (Stereocool's 'okay' remix)
Cosi Fan tutte – Erre (Borussia remix)
Keith & Supabeatz vs Tony Seghore – Hound
Qg – Six Feet Under (edit)
The Sneekers – Eahh (Elektropusher Thorny remix)
Joe Goddard feat Valentina – Gabriel (Soulwax remix)
FOAMO - MIX FOR TRIPLE J RADIO (APRIL 2012)
Foamo mix for Triple J radio (download)
by
Foamo
DOWNLOAD
no tracklist available...:(
If you enjoyed this post, please throw a LIKE to Budapest Bonkers on
FACEBOOK
for more!