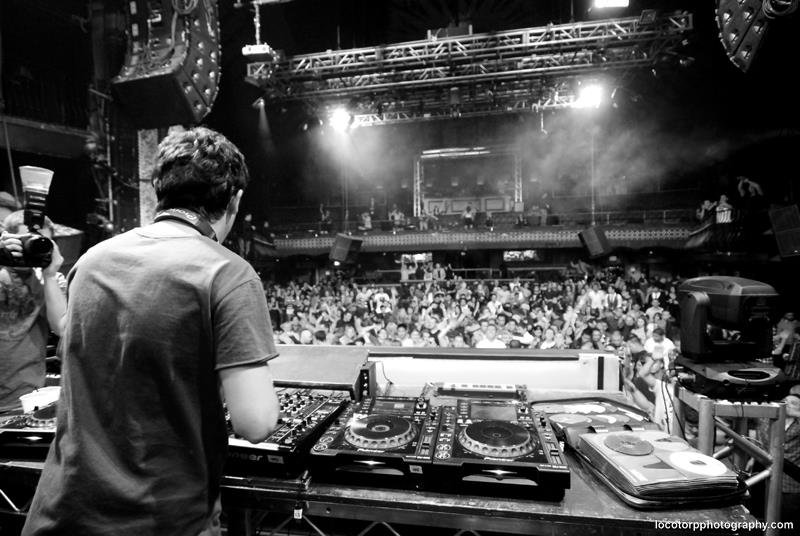 As we slowly reaching this year's WMC, and tons of livesets and new tunes - as a kind of warmup, I would like to post some of my favorite mixtapes from last week. Less talk, more action, check them out!
SHAROOZ - MARCH 2012 DJ MIX

Sharooz DJ Mix - March 2012 - FREE DOWNLOAD!
by
Sharooz
1. JDG vs Jayyfresh - Make Some Noise
2. Lunde Brothers - Some Kind of Monster
3. Sound of Stereo - Volt
4. Miike Snow - Paddling Out (Wolfgang Gartner Mix)
5. Lucky Date - Six 16
6. Bart B More - Traction
7. Clouds - Articles (Vakkuum Mix)
8. Brodinski & GessafelStein feat Louisaaah - 'Let The Beat Control Your Body'
9. Mumbai Science - Commandments
10. Hard Rock Sofa & Swanky Tunes - 'Steam Gun'
11. Sharooz - 'Osiris'
12. Bingo Players - 'L'Amour'
13. Etienne De Crecy - 'Am I Wrong?'
JUSTIN MARTIN - BELOW THE BASSLINE MIX (SPRING 2012)
justin martin- below the bassline mix- spring 2012
by
justin martin music
1. the martin brothers- moon pizza (intro)
2. justin martin vs leroy peppers- riding spaceships- dirtybird
3. eats everything- food
4. french fries- yo vogue (claude vonstroke remix)- dirtybird
5. catz n dogz- mass confusion- pets recordings
6. catz n dogz- jon bovi- dirtybird
7. adam f- circles (eats everything rework)
8. catz n dogz- bring me that water (bass version)- dirtybird
9. wildkats- perpetrating- hot waves
10. christian martin- waiting- dirtybird
11. chris james- play with me- anabatic
12. bazar- hard to find (danny daze love dub)- ellum audio
13. odd parents- fame (catz n dogz & mark dawson sweet saturday mix)- ellum audio
CLAES ROSEN - MARCH 2012 MIX
Claes Rosen (March 2012 Mix)
by
claesrosen
Isbjorn Feat Ella Sky - SwitchPeople
In Deep We Trust - Ba:sen (Pool Party Dub Mix)
Envotion - The Last Wave
Chable amp Bonnici - Deep Architecture
Chriss Ronson Feat Adr - Dont Look Down (Chriss Ronson Cre8tion Club Mix)
Manuel Baccano - Hypnotic Tango (Jaques Raupé Smovey Dub Remix)
Faskil - How To Confuse A Cat (Kobana Remix)
axisONE - Still Infatuated feat. Allisong Long (Vocal Mix)
Aleksey Yakovlev & Kristoffer Ljungberg - Reverie (Hazem Beltagui Deep Mix)
Claes Rosen - Glancing (Solila Remix)
Claes Rosen - ID ( Vocals by David Norris )
Tiger & Wolf - Feed The Beast (F.O.O.L Remix)
THEATRE OF DELAYS - MARCH 2012 DJ MIX
Theatre Of Delays DJ-Set March 2012
by
Theatre Of Delays
Insect - Euscorpius Coda
Random Factor - Digitize (Emperor Machine Remix)
PBR Streetgang - Downstroke
Jay Lamar & Jesse Oliver - 22
Tangerine Dream - Love On A Real Train (SymbolOne Remix)
Superlover - Sequential Circuits (Theatre Of Delays Remix)
Art Department - Tell Me Why (Part 1)
Out Of City - Galactica (Emperor Machine Remix)
Moullinex - Love It Is, Then
Parallel Dance Ensemble - Time
Douze - Forsaken (Publicist Remix)
Theatre Of Delays - Sophie
Locomia - (Symbole One Remix)
Daft Punk - Veridis Quo (Theatre Of Delays Remix)
ROBY HOWLER - MARCH 2012 SCRUNCH MIX
Roby Howler - Scrunch Mix March 2012
by
Roby Howler
Markus Price - Continental Skank
Daniel Haaksman - Din Daa Daa (Boogaloo Tai Ghetto remix)
Douster - Zadunge
Buraka Som Sistema - Tira O Pé (Roby Howler remix)
LuckyBeard - Bonali
Diamond Bass - Lwanda
Herve - Show Me The Light (Kry Wolf remix)
Nick Monaco - Nick's Episode (Ardalan Remix)
Willy Joy - Superhuman
????? - ?????
????? - ?????
Mumbai Science - Reality
Captain Flash - We Are Ravers (I Need Remix)
Wazabi - Ripper (Roby Howler & Sunko remix)
Sunko - Mathematics (The Mould remix)
Roby Howler - Do It (Polymath remix)
ValyMo - A Love Anthem
Sinden - Pull Up Wheel Up (Dillon Francis remix)
Roby Howler - Figures
Gabriell & Ambiotika - 3 Mins Of Love (Rampage Remix)
Roby Howler & Terry Hooligan - Groove Loft
Keith & Supabeatz, Slap In The Bass - Smoka (His Majesty Andre remix)
Nyte Owl - Love Of Mine (Boy 8 Bit remix)
Zhiguli - House Girl (Flying Rods remix)
If you enjoyed this post, please throw a LIKE to Budapest Bonkers on FACEBOOK!