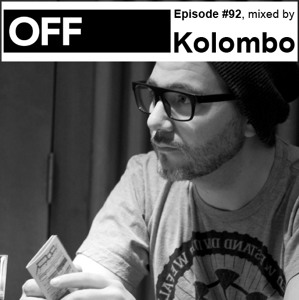 Here comes the newest Podcast from one of the hottest deep house / nudisco labels around and is there any better selection than asking
Kolombo
to provide it?
The Belgian, who
recently rocked Budapest
at A38, does not disappoint with his latest delivery. Sexy, nasty beats and basslines everywhere including fresh new or soon-to-be-released own material, such as his new remix of HNQO's "We Do It" (out today on Playperview) or the brand new Mono Negro remix - not to mention the colossal "Let's Drink" - courtesy of Off Recordings.
Enjoy the 1-hour nastiness and don't forget to dance!
KOLOMBO - OFF RECORDINGS PODCAST 92
Tracklist:
01. Yam Nor - I Wanna Feel
02. Sammy W & Alex E - Swag
03. Fapples - Love Dis Beat (Loulou Players remix)
04. Kolombo - Let's Drink
05. Djane Koki - Dismiss
06. Amine Edge & DANCE - Gimme Tha Fonky Ass (Snazz & Guz remix)
07. Sergey Tarasov - No Hopes
08. Jamie Lidell - Gypsy Blood (Kolombo re-edit)
09. HNQO - We Do It (Kolombo remix)
10. Citizen Kain & Mister K - I Wanna
11. Mono Negro - My Only Best Friend (Kolombo remix)
Please throw a LIKE to Budapest Bonkers on
FACEBOOK
for more!